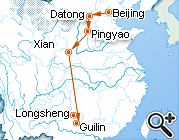 History Appreciation & Scenic Guilin
B-108A: 13 Days China Tour from Bangkok Thailand to Beijing

Datong

Pingyao

Xian

Guilin - Longsheng - Guilin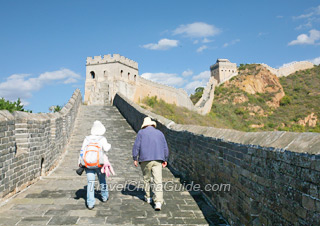 Jinshanling Great Wall, Beijing
A growing number of direct flights between Bangkok and Beijing provide a convenient access for people who would like to have a China holiday tour from Thailand. For most people who choose to enter Beijing from Bangkok, we offer the following flight schedules for your choice: China Eastern Airlines MU5004 0155/0755, Air China CA980 0100/0620 or CA960 1935/0105+1, Thai Airways TG614 1010/1550, TG686 2300/0440+1 or TG674 2350/0530+1, Ural Airlines U6874 1825/0100+1 and Hainan Airlines HU7996 0140/0640. The flights will land in Beijing today or tomorrow after 4 or 5 hours' flying.

Besides Bangkok, you can also start your China tour from Chiang Mai or Phuket, where the direct flights are available. CA824 2345/0500+1 of Air China is the only flight flying from Chiang Mai to Beijing directly. If it does not meet your schedule, you may consider other options and make the transfer at Bangkok, Shanghai, Kunming or Guangzhou. Two airline companies operate the non-stop flights from Phuket to Beijing, one is HU7930 2350/0620+1 and the other is CA822 0140/0755. Travelers from Chiang Rai will need to connect flight at Bangkok or Kunming before going to Beijing.

After landing at Beijing Capital Airport, you can have a good rest for the remaining day. We recommend Holiday Inn Express Beijing Temple of Heaven, which is located 800 yards west of the Temple of Heaven. If you take too much luggage, it's advised to take a taxi directly from the airport with a fee of around CNY120.

Accommodation Suggestion: Holiday Inn Express Beijing Temple of Heaven
Your Beijing tour from Bangkok Thailand formally starts today. You'll explore the capital city Beijing on your own in the following three days.
On the first day, we recommend two neighboring scenic spots,
Tiananmen Square
and
Forbidden City
, to be visited in the morning, and
Prince Gong's Mansion
in the afternoon. Walk 250 yards west along Nanwei Road to the north of the hotel, and turn south into Taiping Street to find the stop to take bus no. 59. Get off at Tiananmen East Station and start your visit to Tiananmen Square and the Forbidden City behind the
Tiananmen Tower
. Before your visit to the Forbidden City, you are suggested to rent an audio guide or get a map at the Meridian Gate so that you can find the way easily and won't miss the major scenic spots. Your visit will end at the northern gate of the Forbidden City, Gate of Divine Prowess, where you can find a few restaurants nearby to get strength back.
Afterwards, walk 150 yards north along East Jingshan Street, which is opposite the Gate of Divine Prowess to the east. Have lunch in a nearby restaurant and then hire a taxi to the Prince Gong's Mansion at a cost of CNY15. After about 1.5 hours' visit, you may take a rickshaw from Prince Gong's Mansion to tour around the
Shichahai Area
to experience the colorful nightlife of Beijing. You can also pay a visit to the nearby
Skewed Tobacco Pouch Street
and
Mao'er Hutong
to have a glimpse of the traditional lifestyle of the city, with many quaint courtyards and crafts workshops. Afterwards, take a taxi back to your hotel at a cost of CNY30.
A visit to the Great Wall is an indispensable part of your China backpacking tour. The well-known
Badaling
is easy to access and maintained well but may be a little plain for explorers. Thus we advise you pay a visit to
Jinshanling
to enjoy the original features of the Ming Dynasty Great Wall. There is no restaurant on the wall, so we suggest you take some food. Snacks of high-calorie are highly recommended, since climbing the Great Wall is very energy-consuming.
After breakfast, you can take a taxi to Wangjing West Subway Station for a fare of CNY60. There is a bus station on Middle Huguang Street, opposite the Exit C of the subway station. You can catch a tourist bus to go directly to Jinshanling, which leaves for the Great Wall at 8:00 and returns at 15:00. Or, you can hop onto a coach bound for Luanping and get off at Jinshanling Service Area; there is a free shuttle bus taking you to the Great Wall. The trip should take approximately 100 minutes and the bus fare is CNY32. After conquering the Great Wall, backtrack to the city proper. You should notice that the last shuttle bus departs from Jinshanling at 15:00. Make sure you get to the parking lot before that time.
It will be too late to visit any other attraction when you get back to the city, so our advice is going back to your hotel directly, and find a restaurant nearby to solace yourself with a big dinner.
Yungang Grottoes, Datong
You must still be a little bit tired this morning because of the long-trip to Jinshanling on the previous day, so
Temple of Heaven
, the nearest tourist attraction to your hotel, should be the best choice for this day's itinerary. You may walk eastwards along Nanwei Road for 10 minutes and you will get to the western gate of the Temple of Heaven.
Your independent tour in Beijing will end with sightseeing in the Temple of Heaven, and you are going to take a train to Datong in the afternoon. Walk back to your hotel to check out and take a taxi to Beijing Railway Station to catch a soft sleeper train to Datong. There are several trains from Beijing to Datong, but we suggest that you take K615 and you will arrive in Datong at night after six hours' trip. You can check
China Train Schedule
for the real-time information. Remember to book the train ticket in advance either on your own or with our booking service.
Upon arrival at Datong Railway Station, we suggest that you take a taxi to the 4-star Datong Hotel for a fare of CNY15.
Accommodation Suggestion: Datong Hotel
Our suggestion for your self-exploration today is to visit
Yungang Grottoes
, ten miles away from Datong, and
Hanging Monastery
, 40 miles south of the city. As the two sites are far from the downtown area, we'd suggest you rent a car with a driver to go there. You can ask the hotel receptionist to rent a car for you. The rental for a day might be negotiated to about CNY400-500.
Today, you are recommended to pay a visit to
Pingyao Ancient City
. Please get up early and check out the hotel after breakfast. Take a taxi to Datong Railway Station for the morning train to Pingyao; you will arrive at Pingyao in about six hours. Upon arrival, you are suggested to check in a traditional guesthouse inside the old town. We recommend the Yide Guesthouse, which is clean and comfortable. You can rent a battery car to the hotel at a cost of around CNY5 per person.
After check-in, stroll around the old town in the afternoon. If you want to better delve into the history of Pingyao, you may pay a visit to the major spots inside the town, such as the
City Wall
, the County Government Office, the
Temple of City God
, and
Rishengchang Exchange Shop
. A through ticket of 20 major spots here costs CNY150 and you can buy the tickets at any of those spots.
Accommodation Suggestion: Yide Guesthouse
Today we advise you to visit the well-known
Qiao Family's Compound
in the morning. Please check out the hotel and store your luggage at the reception desk. Then you can walk or take a rickshaw to Pingyao Bus Station, near the North Gate of the old town. There are frequent buses to Qiao Family's Compound for a fare of CNY15; a one-way trip should take one hour. You are recommended to spend 2~3 hours in the compound. Afterwards, walk back to the previous alighting point to take bus back to Pingyao.
If there is still some time left, you may climb up the City Wall in the afternoon, or find a nice local restaurant for an ample dinner. And then get back to your hotel to pick up the luggage and hire a taxi to Pingyao Ancient Town Station to take a bullet train to Xian North Railway Station. The train ride takes about three hours. You can purchase the ticket on your own at the railway station or book online with us in advance.
Upon arrival in Xian, check in the recommend 4-star Days Inn City Center Xian for your two-night stay in the city. The hotel is conveniently located in the city center, 300 yards south of the Exit C1 of the Beidajie Subway Station of line 2. Thus, taking subway line 2 from Xian North Railway Station to the hotel should be the most convenient way.
Accommodation Suggestion: Days Inn City Center Xian
Terracotta Warriors
Today your China tour from Thailand will cover two famous sites of Xian,
Terracotta Army Museum
and
Giant Wild Goose Pagoda
. After breakfast, walk north towards Beidajie Subway Station to find the bus stop of bus 608 or 616; hop onto either of them and get off at Railway Station West (Huochezhan Xi) after four stops, then walk eastwards for 350 yards to Xian Railway Station. You will find tourist bus no.5 (306) on the east square of the station. Take it to Terracotta Army Museum with a fare of CNY7 and the bus trip requires around one hour. Recommended visiting time in the museum is around three hours. After that, you may have some fast food in KFC or Subway there, for the food in other restaurants near the museum is mostly of high price but low quality.
After lunch, take bus no. 307 at the parking lot in front of the museum to Dayanta and spend a leisurely afternoon wandering around the famous Big Wild Goose Pagoda, which was built in the Tang Dynasty (618 – 907). Have your dinner in a nearby restaurant and enjoy the fantastic music fountain and light show on the north square of the Big Wild Goose Pagoda at night. When the show is over, take a taxi back to your hotel with a fare of CNY20.
Today we recommend the
City Wall
and
Great Mosque
for your self-guided Xian tours from Bangkok. You can check out the hotel after breakfast and either take subway line 2 at Beidajie to Yongningmen or bus 11 or 12 to Nanmen; then climb up the wall from Yongning Gate, also known as the South Gate, which is the most time-honored and magnificent among the four major gates of the City Wall. Walking along the wall, you will have a full extent of the surrounding buildings and landscapes. You may also fully enjoy the features of the ancient city by circling the wall on a bike or a battery car. The rental of the bike is CNY 45/120 minutes for a one-man bicycle and CNY 90/120 minutes for a tandem; you should also pay a deposit of CNY200 for each bike. You can find stops of the battery car at the four gates of the wall and it charges CNY 30 for one stop. Descending from the wall, you can have lunch nearby or go to the Bell & Drum Tower Square, 800 yards north of the South Gate, to treat yourself in one of the time-honored brand restaurants on the square.
Then in the afternoon, you may have a visit to the Great Mosque in Huajue Lane behind the
Drum Tower
. We suggest you take an afternoon flight to Guilin, so please go back to the hotel at least three hours ahead of the flight's departure, then fetch your luggage to take a taxi to Xian Airport. The taxi fare would be around CNY120.
Upon arriving at Guilin Airport, you may take a taxi to the suggested 4-star Vienna Hotel Guilin on Zhongshan Road. The trip takes about 40 minutes and costs around CNY100. Check in and have dinner in a nearby restaurant. Take a good rest for next day's backpacking tour.
Accommodation Suggestion: Vienna Hotel Guilin
Day 10
Guilin - Yangshuo - Guilin
To enjoy the splendid landscape of Guilin, you should not miss
Li River Cruise
. You are advised to book the cruise ticket in advance at your hotel to make sure you board the ship as scheduled. There is no direct transport from the hotel to Mopanshan Dock, so we advise you take a taxi to get there, which costs about CNY70. Guilin-Yangshuo cruise normally takes around 4.5 hours. On arrival at
Yangshuo
, you may stroll around the well-known
West Street
near the alighting dock, or hire a bicycle to explore the countryside scenery.
In the late afternoon, take a battery car to Yangshuo North Bus Station to hop onto a bus back to Guilin. The ticket price is CNY25 and it takes about 1.5 hours on the way. When alighted, take a five minutes' walk northwards to your hotel.
We suggest that you head for Longsheng the next day, so you can pick out some necessity for one night use to travel light. Pack up the others and store them at the hotel when you check out the next morning.
Day 11
Guilin - Longsheng
Cruising on Li River
Today, you will view the distinct rural scenery at
Dragon's Backbone Rice Terraces
in Longsheng County. After breakfast at your hotel, you can go southwest along South Ring Road for 250 yards to take bus no. 23 at Ximenqiao Station. Get off at the terminus and you will see Qintan Passenger Station. Take a through bus to Longsheng and the trip should take nearly two hours. Upon arrival at Longsheng Bus Station, transfer to another bus for Ping'an Village of the Dragon's Backbone Rice Terraces and you will arrive at the destination in one hour. Upon arrival, check in Ping'an Inn inside the scenic area, which holds magnificent view of terraces from any room of the hotel. Then, walk to the 'Seven Stars Accompany by Moon' and 'Nine Dragons and Two Tigers' scenic spots to admire splendid scenes.
Accommodation Suggestion: Ping'an Inn
Day 12
Longsheng - Guilin
Check out from the hotel in the morning and take a bus back to Longsheng County, and then to Guilin. Go back to Vienna Hotel to check in again and have lunch around the hotel. Then go across Middle Zhongshan Road and walk northeast for 150 yards to catch bus no. 11 at Xicheng Lukou Station. You will get to the
Seven Stars Park
after four stops. After your stay there for 1~2 hours, you can take a taxi to
Wave-Subduing Hill
(Fubo Hill) for a fare of CNY9. If time permits, you may make a visit to
Folded Brocade Hill
and
Reed Flute Cave
as well.
You must be very exhausted when today's tour has finished. We advise you get back to your hotel by taxi and have a good rest.
You will leave for home today. Pack your luggage and check out the hotel. Then, take a taxi to Guilin Airport around three hours before the flight's departure time.

The recommended flight from Guilin to Bangkok is CZ6099 0900/1210 from China Southern Airlines. This 4 hours' flight will have a short stopover at Nanning. Other flights transferring at Hong Kong, Shanghai or Guangzhou are also available alternatives.

There are no flights connecting destinations like Chiang Mai, Phuket and Chiang Rai, so you may need to fly to Hong Kong, Shanghai, Guangzhou or Beijing from Guilin and then transit to the flight to your home.
Need detailed infomation on train, flight or bus/ metro schedule? Use the search tool below.
If the above route does not meet your requirements, you could DIY an itinerary by choosing daily guided tours, free days, hotels, trains and/or flights freely. Our estimated quotation can be a reference for your independent travel.

Related Itinerary: