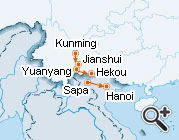 Kunming Vietnam Overland Trip
B-KM03: 13 Days China Tour from Paris to Kunming
Jianshui - Yuanyang - Hekou - Sapa
Hanoi
To travelers who visit China for the second time or several times, Yunnan with rich tourism recourses, is one of their most favorable destinations. Besides, since Yunnan is the southwest frontier of China, many people including lots of French tourists travel overland to Vietnam after visiting Kunming, Jianshui and Yuanyang. Based on the current flight schedule, China Eastern Airlines flight MU774 1520/0840+1 flies from Paris to Kunming on every Monday, Thursday and Saturday. The flying time is only about 11 hours. If this direct flight is not available on your travel date, you can take flight MU8664 232581635+1 to Shanghai first, have a transit stop for 4.5 hours there and then board the flight MU748 2105/0022 to Kunming. Another option is that you take the Cathay Pacific flight CX260 1310/0645+1 from Paris to Hong Kong, and wait for 5 hours to take the connecting Dragon Air flight KA760 1150/1420 to Kunming. If you live in other cities, such as Lyon, Marseille, Toulouse, Nice and so on, you can go to Charles de Gaulle Airport of Paris to take flight to Kunming.
If you make connecting flights in Hong Kong or Shanghai and want to see the city, you can refer to the itinerary of
B103A
to well spend your time there.
Tips: Your may visit Yuanyang from December to April the next year, so as to view the picture-postcard scene of the terraced field. Meanwhile, you need to take some thick clothes as it is still cold during the above mentioned time period in Yuanyang and Sapa.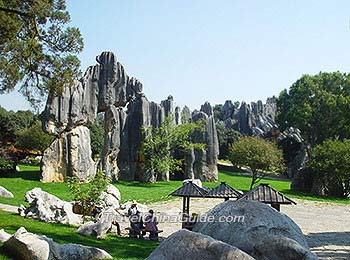 Stone Forest
After you arrive at Kunming Changshui Airport, please find your own way to the hotel that you booked beforehand. TravelChinaGuide recommends you the 3 stars Jinjiang Hotel - B Tower located at the bustling Beijing Road. From the airport, you can take the shuttle bus line 2 to the hotel directly. The bus is in operation from 8:00 in the morning to 3:00 at midnight, running at an interval of nearly 20 minutes. The bus ride takes about 40 - 50 minutes, and the fare is CNY25 per person. After check-in, you can choose to have some food in one of the nearby restaurants. Have a good rest and be ready for the coming China holiday tours.

Accommodation Suggestion: Jinjiang Hotel - B Tower
Your China tour from Paris starts with the famous Karst landform,
Stone Forest
. The scenic area is about 50 miles far from downtown Kunming. After the breakfast in the hotel, you can take a taxi at a cost of CNY30 to the East Coach Bus Station, where you can take the direct bus to the Stone Forest. The bus is in service from 7:00 to 19:00, and runs at an interval of 30 - 40 minutes. After two hours' bus ride, you will reach the destination. The sightseeing in the Stone Forest Park takes about two or three hours, and then you can take the same bus back to the city.
In the afternoon, you can take the bus K9 from the East Coach Bus Station to Zhengyi Road. Getting off the bus, walk south straight along the Zhengyi Road for 900 yards, you will reach the famous Jinma and Biji Archways. It is a historical block clustered with snack vendors, restaurants and shops. You get a great chance to taste the local delicacies. At last take a taxi back to the hotel at a cost of CNY10.
Local vegetable market in Yuanyang County
Today, you are advised to make a side trip to Jianshui City by a morning train. The train schedule is limited, and the train duration is about 3.5 hours. We suggest you take the train leaving around 9:00 so as to reach Jianshui by lunch time. Check out of the hotel in the morning, and walk south along the Beijing Road for 600 yards, you will reach Kunming Railway Station. You are supposed to get to the train station about 1.5 hours prior to the train's departure time. Booking train tickets in advance is a wise choice to facilitate your Yunnan tour from France.

When you arrive in Jianshui, you are suggested to check into the best local hotel, the 4-star Lin An Hotel located in the city center. Take a taxi from the train station to the hotel directly, and the fare would cost you about CNY20. After a short rest, you can pay a visit to Zhu's Garden, which is located about 500 yards walking distance from your hotel. The walking route is like this: Enter the North Chaoyang Road and walk east for 150 yards, and then turn south to walk along the Hanlin Street for another 300 yards, you will reach the lane for the garden's entrance. Two hours are enough to have an overall tour in the garden. Afterwards, have a relaxing stroll in the ancient town, experiencing local people's easeful life and tasting some local food for supper.

Accommodation Suggestion: Lin An Hotel
It is a good choice to have an in-depth jourrney to Tuanshan Village which is located about 7 miles from the Jianshui Ancient Town. You are suggested to take a taxi to the village, with a duration of 30 minutes and a fare of CNY30. In the village, you can witness the primitive and tradtional local dwellings, and you should not miss the highlight of the village, Zhang's Garden, which is delicate and grand. On the halfway back to Jianshui, you can get off at Shuanglong Bridge, also called Seventeen-Arch Bridge, which is situated about 2.5 miles to the ancient town. There you can enjoy a leisure time by wandering along the bridge. Back to the ancient town, you are recommended to drop by the Confucius Temple built about 700 years ago, where you can have a better understanding on the history and culture of the city. At last, take a taxi back to the hotel for rest.
Yuanyang Rice Terraces
Check out of the hotel in the morning and take a taxi at a cost of CNY7 to Jianshui Coach Station, where you can connect a bus to Yuanyang. Buses are available from 7:15 to 18:40, departing when fully seated. The bus ride is about two hours, and the ticket will cost you CNY32. The bus will drop you off in Nansha Town, Yuanyang New City, and you need to rent a car or taxi to Xinjie Town, Yuangyang Old Town. The 18 miles driving will cost you about CNY150 and take one hour.

The 3-star Yunti Hotel is highly recommended, for it is kind of the best hotel in the town. After a short break in the hotel, you can explore the Qingkou Hani People's Folk Customs Village by hiring a taxi, and the fare would be about CNY30. The village is located on a hillside, and you can see their unique mushroom-shape houses and their tradtional lifestyle. The village is also surrounded by the rice terraces, so we also suggest you wander near the Qingkou Rice Terraces for a closer touch with their famrming culture.

Accommodation Suggestion: Yunti Hotel
If wanting to dig deeper in local people's life, you can get up early to attend the morning market, where you can see local women dressing in their ethnic costumes, touting vegetables and other craft products. Alternatively, if you look forward to a further exploration for the terraces, we recommend you the
Duoyishu Terraces
. The best way to reach it is to rent a car under your hotel's help, and you are supposed to book it at least one day before. The most brilliant terrace scene lies in the sunrise, so you need to get up and reach there early. By the way, the driving ride from the hotel to the Duoyishu Terraces is about 30 minutes. If you are interested, you can also extend your car trip to the Azheke Terraces to appreciate the stunning rural sceneries. It is about 30 minutes driving from the Duoyishu Terraces.
Day 8
Yuanyang - Hekou - Sapa
Check out of the hotel, and walk west about 350 yards to Xinjiezhen Bus Station, where you are going to board a bus to Hekou County. The bus is available at 7:30, 10:10, 11:00 and 11:30, and the bus duration is about 4 hours. We suggest you take the first bus so as to reach Sapa intraday. Hekou County borders Vietnam, and cross the immigration you will reach Lao Cai. Afterwards, take a taxi to Sapa, and the travel time is about 45 - 60 minutes. For a better environment and service, we recommend you the 4 stars U Spa Hotel. Check in and have a good rest. Alternatively, you can also visit the local churches and French Street. If you are still full of energy, you can sight-see the nearby Cat Cat Village and Sin Chai Village by hiking, which may take about two hours. At dusk, talking a walk in the town will be a romantic experience.

Accommodation Suggestion: U Sapa Hotel
Ho Chi Minh Mausoleum, Hanoi
Sapa is great destination for hiking fans and backpackers, so today we suggest you go for a hiking first and then take an overnight train to Hanoi. Check out and leave your luggage in the hotel reception desk. Around Sapa, there are many rice terraces, and people of minority groups also inhabit in clusters. You can visit some villages like Lao Chải, Tả Van and Các xã hạ huyên. You can choose the destinations and distance according to your physical condition. If you are not quite familiar with the hiking route, you can find a local guide for accompany through the hotel's assistance. In the late afternoon, go back to the hotel for luggage collection and head for Lao Cai Railway Station to take the train SP4, which departs at 20:45 and arrive in Hanoi at 05:10 in the morning. The train LC2 (21:20/06:55) is also a fine choice.

Accommodation: Overnight train
Upon arrival at Hanoi, you need to find a way to your booked hotel. The 3-star Noble Boutique Hotel is highly recommended by tourists, and we suggest you take a taxi to the hotel directly. The taxis in white and with green strips are operated by Mai Linh Company, which should be your best choice. After check-in, deposit your luggage in the hotel and have your breakfast in a nearby restaurant. Then you can start your sightseeing with the Hoan Kiem Lake and the old city quarters. Afterwards, continue your trip to Ho Chi Minh Mausoleum, Former Residence of Ho Chi Minh, One Pillar Pagoda (Chua Mot Cot) and Temple of Literature (Van Mieu).

To smooth your tour for next two days, we advise you to book a two-day Halong Bay Tour Package with The Sinh Tourist. It has two branch offices in Hanoi: One is located at 52 Luong Ngoc Quyen St., Hoan Kiem District, and their contact info is (+84) 4 39261568 for calling, and hanoi@thesinhtourist.vn for email. The other branch is located at 64 Tran Nhat Duat St., Ha Noi Capital. Their number is (+84) 4 39290394, and please note that they are in service from 6:00 to 21:30.

Accommodation Suggestion: Noble Boutique Hotel Hanoi
Day 11
Hanoi - Halong Bay
Cruise on Halong Bay
Check out of the hotel and take a taxi to the designated boarding sites to take the bus that The Sinh Tourist arranged for you. The bus ride takes about 3.5 to 4 hours on the way. The sightseeing and transportation as well as the dinning will all be well arranged. You will embark the cruise at lunch time and stay one night on board. The cruise tour enables you to enjoy the best view of the bay. Along the way, you can have an onshore excursion in uninhabited islands by canoeing. There are also wonderful karst caves waiting for your exploration, especially the Surprise Cave, and you should not miss that. Besides, if you prefer to stay on board, you can also entertain yourself by joining the fishing and barbequing activities.

Accommodation: Cruise Ship with the Sinh Tourist
Day 12
Halong Bay - Hanoi
Today, you will continue to sight-see the Halong Bay on board in the morning, and the soft breeze and broad bay view will surely relax you. Towards noon, you need to disembark the cruise ship and the bus operated by The Sinh Tourist will be waiting for you. Take the bus back to Hanoi and check into the Noble Boutique Hotel again.

Accommodation Suggestion: Noble Boutique Hotel Hanoi
Now there is a direct flight VN019 2330/0700+1 from Vietnam Airlines available every day flying from Hanoi to Paris. Also, AF5097 2300/0700+1 from Air France has been code-shared with VN019 on every Tuesday to Sunday, and the flying time is 12 hours and 15 minutes.

The hotel normal check-out time is before 12:00 noon. Since the flight leaves in the late evening, you can store your luggage in the Noble Boutique Hotel when checking out, and then explore the old city quarters a bit more in the afternoon. It takes about 50 minutes by car from the hotel to Hanoi Noi Bai International Airport. You can either book the hotel shuttle bus to the airport or ask the hotel reception to help you call a taxi. Wish you a pleasant journey home!
Need detailed infomation on train, flight or bus/ metro schedule? Use the search tool below.
If the above route does not meet your requirements, you could DIY an itinerary by choosing daily guided tours, free days, hotels, trains and/or flights freely. Our estimated quotation can be a reference for your independent travel.