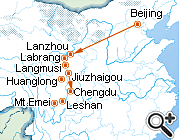 Mysterious Wonderland
B-112: 17 Days China Tours from Chile to Beijing

Lanzhou - Xiahe - Jiuzhaigou - Huanglong - Chengdu - Leshan - Mt. Emei
Chile, a country in the southwest of South America, is regarded as one of the farthest places from China. It takes at least 30 hours flying from Chile to China, which is quite tough. However, the attractive historical culture and charming natural sceneries you are going to appreciate make it all worth it. To start your China tours from Chile, we suggest you take flight from Santiago Chile to Dallas or New York in USA or Toronto in Canada, from where you could connect another flight to Beijing. If you take American Airlines AA940 2015/0522+1, you will have a stopover at Dallas for 6 hours before going to Beijing by AA263 1125/1415+1. LA532 of LAN Airline leaves from Santiago for New York at 22:45 and lands at 09:25 the next morning, after a short break, you may take CA990 1250/1420+1 of Air China to Beijing. Another alternative for your reference is to fly from Santiago to Toronto by Air Canada AC093 1835/0540+1 and change to AC031 1455/1605+1 to Beijing.

People live in other places like Valparaiso or Vina Del Mar need to make their way to Santiago, then proceed to Beijing by flight.
As the whole trip takes more than 30 hours, you are expected to reach Beijing after two days. Today you will arrive at the connecting city. Please make the connection by yourself and spend the rest of the day on the plane.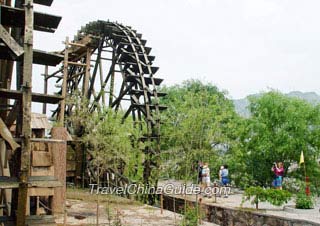 Waterwheel Garden, Lanzhou
After a long journey, your international flight will land in Beijing in the afternoon. The first destination of your China holiday tours is Lanzhou. You may take an overnight soft sleeper train from Beijing to Lanzhou. The train departs in the afternoon or at night from Beijing West Railway Station and arrives in Lanzhou the next morning or around noon. At the Capital Airport, you can take shuttle bus line 7 to the West Railway Station directly. The bus fare may cost you CNY24. A taxi ride from the airport may be around CNY130. The whole train trip to Lanzhou takes over 17 hours, so it is better for you to prepare some food and a water bottle as the train provides hot water during the trip.
Before the trip to Lanzhou, we can also arrange hotel and offer suggestions on your independent travel in Beijing upon your request. For detailed information, please refer to our
B-101D
.
Accommodation: Overnight soft sleeper train
Upon arrival in Lanzhou, please find a way to the hotel you booked beforehand. The 4-star Golden Wheel Hotel is recommended, which is about 1 mile from the Railway Station. Considering you may carry heavy luggage, we suggest that you take a taxi for a fare of about CNY 10 to the hotel.
After check in the hotel, you are advised to pay a visit to the
Waterwheel Garden
at leisure in the afternoon. The garden is near the hotel, so taxi is the recommended travel mode, and the 1.5 miles' taxi ride will cost you around CNY15. The Waterwheel Garden is situated on the bank of Yellow River, so you can stroll along the riverside and stop over the famous
Zhongshan Bridge
– the First Bridge over the Yellow River. For today's dinner, we recommend the local food, Lanzhou Beef Noodles. You can find many such restaurants near the garden and your hotel.
Accommodation Suggestion: Golden Wheel Hotel
Sheepskin raft on the Yellow River
Today, you are suggested to pay a visit to Liujiaxia Dam and
Bingling Thousand Buddha Caves
. After breakfast, take a taxi at a cost of CNY15 to Lanzhou West Long-distance Bus Station, where you can connect a direct bus to Liujiaxia. You may take some food and water with you as restaurants and shops are hard to find around the site. The bus ride takes about 2 hours, and the fare is CNY19.5 per person. You will alight at Liujiaxia Dam, and then take a speed boat to the famous Bingling Thousand Buddha Caves. The round trip ride may cost you CNY120 per person , and the whole sightseeing journey takes about 4 hours: 2 hours on board and 1-2 hours exploring the caves. There are also slow ferry ships traveling between the dam and the caves, costing CNY65 per person, but taking seven to eight hours for a round trip in peak season. As the water level of the Yellow River falls in recent years, it is hard for large ferry ships to travel around. So TravelChinaGuide suggests you take the speed boat. Reverse the trip to get back to Lanzhou City. Please note that the last bus leaves the dam at 18:30.
Before going back to your hotel, we suggest you take bus no. 129 at West Bus Station to Lanzhou South Bus Station to book next morning's bus ticket to Xiahe. The bus trip to Xiahe takes 4 hours, so it is better for you to book the bus that departs at 7:30 or 8:30 in the morning. Then take a taxi back to your hotel with a fare of CNY20.
Take a taxi to Lanzhou South Bus Station to catch the bus to Xiahe. Upon arrival, you can check in a hotel to leave your luggage. The 3-star Wangfu Hotel is recommended, which is 350 yards west of the bus station.
In the afternoon, you are recommended to make a visit to the
Sangke Prairie
, which is located about 9 miles from the hotel. To have a worry-free trip in the grassland, we suggest you reserve a taxi for a round trip, and ask the driver to pick up you at fixed time. The fare is around CNY50. Or you may rent a bike to ride southwest along the main road to the prairie. You can ride a horse and have a taste of the local home-made butter tea and roasted mutton there.
Accommodation Suggestion: Wangfu Hotel
Sangke Prairie, Xiahe
Today we suggest that you take a full day trip to the
Labrang Monastery
which is considered one of the most important monasteries of Tibetan Buddhism. The morning recitation in the monastery is very famous, during which believers reciting the Buddhist scripture while walking around the monastery and the lamas also recite the scripture in the main hall. Get up at around 6:00 and walk west along Zhaxiqi Street for 1,100 yards, you will get straight to the entrance of the monastery. You can walk around the monastery with the Tibetan believers and then see the lamas doing their morning recitation. It is better for you to follow a guide so as to learn more about the background story and culture of Tibetan Buddhism.
Around noon, you can have lunch in the temple. The canteen inside is open to tourists and provides authentic Tibetan food. You will have a chance to enjoy delicious milk tea, stewed mutton, steamed rice with potentilla, sugar and butter, steamed buns with beef or mutton stuff, and yoghurt. Then continue to visit the temple. In the afternoon, you can enjoy the overview of the monastery and the beautiful sunset on the top of a nearby hill.
Before you go back to your hotel, walk backwards along Zhaxiqi Street to Xiahe Bus Station to book the next day's bus ticket to Langmusi.
Labrang Monastery, Xiahe
The bus departs at 7:40 and it is the only bus traveling to Langmusi Town. The bus trip takes about four hours and you will see beautiful scenery on the way. You will reach Langmusi at around 12:30. We suggest you to live in the 3-star Langmusi Grand Hotel to have a rest; the Langmu Monastery is only a few minutes' walk away from the hotel. Go forward along the main road and turn left, you will find the suggested hotel.

After a short rest in the hotel, you can go back to the main road to have lunch. There are some local restaurants along the road side; you can choose one to fill your belly. Then walk west along the main road to a fork. Here please note that: Langmu Monastery, in fact, is composed of two temple areas: one is located in the northern Sichuan, and the other is in southern Gansu. They are near each other, but separated by the provincial boundary, Bailong River. At the fork road, we advise you take the road on your right hand side and the Langmu Monastery is at the end of the road. The temple was built on hills, and at the top you can visit the site for Sky Burial, which is open to tourists. On the way back, you can have your supper at the fork, where many restaurants are clustered. The Ali Restaurant is highly recommended by most backpacking travelers, which serves western fast food and noodles.

Accommodation Suggestion: Langmusi Grand Hotel
Day 9
Langmusi - Jiuzhaigou
Your next destination of this China holiday tour from Chile is Jiuzhaigou. There is a bus running from Lanzhou to Jiuzhaigou, and it will stop by Langmusi at 15:00 around. The bus boarding site is located near a crossing about 2 miles out the Langmusi Town. You can take a taxi there, and the driver will drop you off at the bus boarding site. The bus ride is about 6 hours long, and the bus fare is about CNY160. Upon arrival, you can find a hotel to settle down. The New Jiuzhai Hotel is suggested by us, which is 2 miles northwest to the entrance of Jiuzhai Valley National Park. Check in and have a good rest in the remaining day.

Please note that some scenic areas around here, including Jiuzhai Valley and Huanglong National Scenic Reserve, may be closed due to bad weather between the end of October and next March, and the transportation to the sites may also be canceled. Thus, we suggest that you visit there between April and October.

Accommodation Suggestion: New Jiuzhai Hotel
Jiuzhai Valley National Park
Today you have a full day to visit the
Jiuzhai Valley National Park,
which is a highlight of your backpacking China itinerary. Jiuzhai Valley consists of three smaller scenic areas: Rize, Shuzheng, and Zechawa, among which the Rize Valley has the best scenery.
TravelChinaGuide suggests that you get to the Primitive Forest by shuttle bus at around 8:00 and visit the Rize Valley on foot. The first attraction you will come across is the Swan Lake, followed by Arrow Bamboo Lake and Panda Lake. After Panda Waterfall, comes the beautiful Five-Flower Lake where the nature shows its unbeatable creations. Then proceed to the Pearl Shoal Waterfall and Mirror Lake. Cross over the plank road you will reach the Nuorilang Waterfall. It would be around noon, so you may have a short rest and grab some food at Nuorilang Buffet Restaurant. In the afternoon, to save your time and energy, you can take a whistle stop tour on the shuttle bus to the Long Lake and Five-Colored Pond in Zechawa Valley, as well as Rhinoceros Lake and Tiger Lake in the Shuzheng Valley.
If you are interested in the Tibetan culture, we suggest you enjoy the local singing and dancing show "Mysteries of Tibet" at night. You can take a taxi from the entrance of the Jiuzhai Valley to the 3-mile-away great theater at a cost of CNY20. The show starts at 18:00 or 20:00.
Day 11
Jiuzhaigou - Huanglong - Jiuzhaigou
Today, we recommend you continue your China independent tour by enjoying beautiful scenery in
Huanglong National Scenic Reserve
. Before going to Huanglong, book next morning's bus ticket to Chengdu at Jiutong Bus Station, which is located on the way to the entrance of Jiuzhai Valley from your hotel.
Then take a bus to Huanglong at the same bus station. Departing at 6:30 and 7:00, the bus arrives at Huanglong in three hours, costing CNY40 per person. The same bus returns Jiuzhaigou at around 15:00, please reserve the ticket before getting off the bus. You can either hike in the scenic area or take cable cars to the spots. The whole trip would be around 4 – 5 hours on foot and shorter by cable cars. Food at the scenic area is expensive and not that tasty, so it is better for you to take your own.
Day 12
Jiuzhaigou - Chengdu
Huanglong National Scenic Reserve
Get up early and check out of the hotel to catch the coach to Chengdu. The whole journey would be eight to ten hours with several short stops for passengers to go to toilet. You need to take some food and water along with you as there are few shops and restaurants on the way.

Upon arrival in Xinnanmen Bus Station in Chengdu, take a bus or taxi to the hotel you reserved before. We suggest you the 4-star Holiday Inn Express Wuhou, located near the Wuhou Temple. Please take a taxi at a cost of CNY20 to the hotel directly.

Kindly reminder: If you are in a slack budget, I suggest you rent a car at a cost of CNY200 to Jiuhuang Airport first, and then connect a flight to Chengdu. Air trip may take about one hour, which avoids the discomfort caused by the longtime bus ride. Upon arrival, take a taxi to Holiday Inn Express Wuhou, and the cab fare is about CNY50-60.

Accommodation Suggestion: Holiday Inn Express Wuhou
Chengdu is the home town of Giant Panda, so never miss the trip to
Chengdu Research Base of Giant Panda Breeding
. The best time to the base is in the morning when the pandas are having their breakfast and playing with each other between 8:30 and 10:00, so get up early and take a taxi to the base in 50 minutes and at a cost of CNY50-60.
After that, you can purchase the ticket of
Wuhou Temple
at the entrance of the base and take the free tourist bus to the temple. The temple was built to commemorate Zhuge Liang, one of the greatest strategists and politicians of the Three Kingdoms Period (220 - 280). The
Jinli Street
next to the temple is an ideal place to enjoy the local delicacies and buy some souvenirs.
After feasting your stomach at Jinli, take a taxi back to your hotel for a fare of CNY15.
Giant Panda
Our suggestion for today's China holiday tour from Chile is to visit the
Dujiangyan Irrigation System
in the morning and then proceed to the
Jinsha Site Museum
in the afternoon.
There are three intercity high speed trains available in the morning, leaving between 6:30 and 8:30. Thus, you need to get there early to catch them. After breakfast, take a taxi to Chengdu Railway Station directly, which may need at least 30 minutes. The train fare is CNY15 per person and you will reach Dujiangyan Railway Station in about 30 minutes. Upon arrival, you can take bus No. 4 to Lidui Park, the entrance to the Dujiangyan Scenic Area, in 40 minutes. The recommended visiting time is 2 hours. Then get back to the railway station to catch the high speed train back to Chengdu. There are many nice restaurants selling authentic Sichuan food near Chengdu Railway Station. You can have a taste of the famous Stir-fried Tofu with Minced Beef in Spicy Bean Sauce (Mapo Tofu) and other famous dishes.
After lunch, walk to the railway station to take subway line 1 to Tianfu Square, and then change to line 2 to Yipin Tianxia. Take Exit B and walk southwest straight along the Tonghe Road Zhonghuan Road for 700 yards to the Jinsha Site Museum. During your one hour visit, you can acquire more information about the culture and history of Chengdu City. For the way back to hotel, we suggest you take a taxi with an approximate fare of CNY 15.
Day 15
Chengdu - Leshan - Mt. Emei
Today you are going to visit the famous
Leshan Giant Buddha
. Check out but leave behind your heavy luggage at the Holiday Inn Express Wuhou, and take some life necessities with you as you are going to have one night stay on the Mt Emei. Take a taxi to the Xinnanmen Bus Station directly at a cost of CNY20. Upon arrival, you can catch a bus to Leshan after 2 hours' ride. The coach leaves every 30 minutes between 7:00 and 19:00, and arrives at Leshan Xiaoba Tourist Bus Station. Then connect public bus No.13 to Leshan Giant Buddha Scenic Area, and walk back along Lingyun Road to enter from its north gate.
After visiting the Giant Buddha, you can have lunch at a restaurant near the north gate and take bus No.13 to the Xiaoba Tourist Bus Station. Then take a 30-minute bus ride to Emeishan Tourist Traffic Center. The 4-star Emeishan Grand Hotel near the Baoguo Temple Scenic Area is recommended by TravelChinaGuide, which is quite near the bus station. Walk west along the road toward the mountain for five minutes and you will see the hotel.
Accommodation Suggestion: Emeishan Grand Hotel
Day 16
Mt. Emei - Chengdu
Leshan Giant Buddha
Mt. Emei
is a quite popular hiking destination for backpacking travelers, and today you will challenge yourself by climbing up the mountain from 7:00 this morning. Remember to check out and leave behind your heavy bags at the reception desk. Walk north to the Baoguo Temple, the entrance of Mt. Emei, to take the tourist bus to Leidongping, which takes about one hour and cost CNY90 per person for a round-trip. Then climb up for another 1.2 miles in 30 minutes, you will reach the Golden Summit cable car station. To save the energy and avoid oxygen deficit, you are suggested to take the cable car to get to the summit instead of hiking all the way. The fare is CNY 65 per person for one way. Standing on the top, you will see breathtaking cloud sea and the giant Buddhist statue. Please note that on the way to the cable car station, you may encounter some lovely monkeys. You can feed them and take photos with them, but keep an eye on your pockets, bags and cameras as these naughty creatures rob things from tourists sometimes.
Grab some food for lunch on the Golden Summit and then get down the mountain. Pick up your bags at Emeishan Grand Hotel and get to traffic center. There you can take a bus to Chengdu Xinnanmen Bus Station at a cost of CNY 45 per person. The bus runs hourly from 7:00 to 19:00 and reaches Chengdu in 2 hours. Then take a taxi to Holiday Inn Express Wuhou and check in again. This evening, you can take a taxi with a fare of CNY20 to
Wide and Narrow Alley
, where you will find authentic Sichuan food and snack, as well as experience the local nightlife.
Accommodation Suggestion: Holiday Inn Express Wuhou
Your wonderful China tour from Chile comes to its end today. Please check out of the hotel before 12:00 and take a taxi at a cost of CNY60 to Chengdu Shuangliu International Airport for your onward flight.
It is not convenient to travel from Chengdu to Chile since you will have to make the transit twice at different locations. The first way is to fly from Chengdu to Guangzhou, connect a flight to New York and then fly to Santiago. Or you may go to Shanghai or Beijing first and then take flight to Sydney or Paris for transfer before going back home. Also, flying from Chengdu to London and connect flight at Sao Paulo in Brazil is another option for your choice.
Alternatively, you can extend your trip from Chengdu to Chongqing and take a splendid
Yangtze River Cruise
.
Need detailed infomation on train, flight or bus/ metro schedule? Use the search tool below.
If the above route does not meet your requirements, you could DIY an itinerary by choosing daily guided tours, free days, hotels, trains and/or flights freely. Our estimated quotation can be a reference for your independent travel.